Story by Anake Nawikamune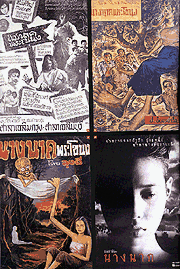 .....It all started with a simple story, about a hundred years ago, of a woman named Nak who lived on the bank of the Prakanong River. She died in childbirth and became a ghost, scaring people in the entire Prakanong District.

.....Since then, various forms and versions of the story have haunted Thai popular culture. The oldest account of Mae Nak (mae being the archaic form commonly used before a woman's name) was an article written by K. S. R. Kularb in the periodical Siam Prapet (1899). In it, he gives a page and a half of history in response to a reader's letter asking about the "Nak demon."

.....The story goes: In the reign of King Rama III, a woman called Amdaeng Nak, living with her husband Chum near the mouth of the Prakanong River, died in childbirth. Chum buried her in the cemetery of Mahabusaya Temple. No ghosts appeared, but the older son, fearing that his father would remarry and lose their wealth, devised a plan to prevent any such intentions. He hired men to throw stones at boat people near the cemetery and dressed himself up in women's clothes and terrorized the villagers as his mother's ghost.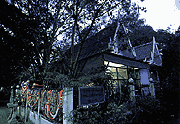 .....The son later confessed but instead of ending mischief, it sparked several later incarnations of Mae Nak's ghost. A musical entitled "E Nak Prakanong" became all the rage in 1911, and several elements that were to become classic features of the Mae Nak tale were put in place, including the name Mak as the husband's. Also created were the fantastic episodes in which the Nak ghost kills talkative neighbors and stretches an elongated arm to pick fruits.

.....Midnight Friday, July 23, 1999 was the sold out opening night of Nang Nak, the latest film on this famous legend. The movie easily broke national records and became the highest earning film in Thailand. Crowds flocked to the Mahabusaya Temple and Mae Nak's image and shrine there overflowed with offerings. All this proves that Mae Nak's ghost is definitely far from eternal rest.